The Women's Ministry at Beachside Baptist Church will host a weekly women's Bible study on Tuesdays starting August 13, 2019, from 6:30-8pm. It will continue for 8 weeks. You do not need to be a member to participate. Women of all ages and faiths are encouraged to attend. If you want to participate, books are provided. Contact Joyce Shobert to reserve a book (free).
This Women's Bible Study will utilize, "Finding God Faithful" by author Kelly Minter.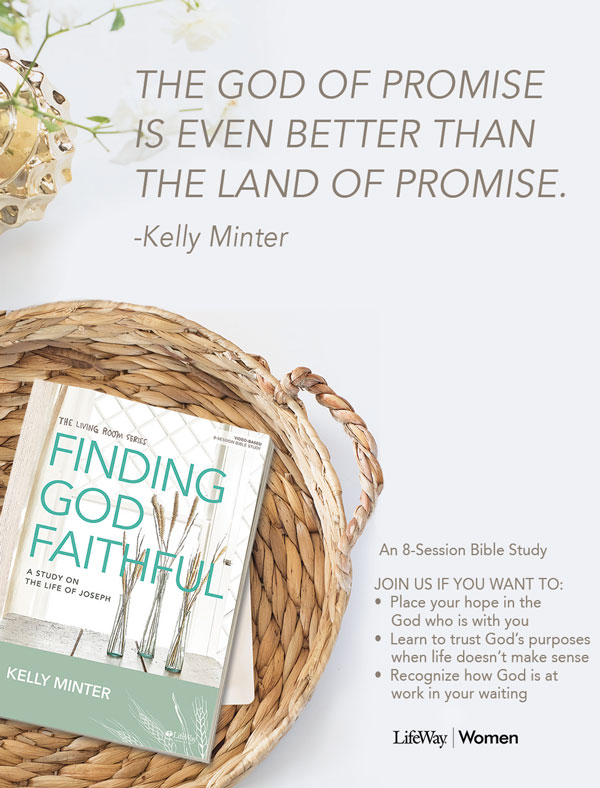 About This Women's Bible Study
Trace the path of Joseph's life in the Book of Genesis to observe how God's sovereignty reigns, even in our darkest moments. Learn to recognize when God is working during periods of waiting, trust God's plan when life doesn't make sense, and rest in the sufficiency of His presence in every circumstance. His provision is enough, His presence is constant, and His purpose is unstoppable.
In the midst of hardship, tragedy, and unanswered questions, it's difficult to glimpse God at work. How do we hold onto our faith during these times? How do we trust God is working all things for our good and His glory? Join us as we discuss "Finding God Faithful."
[notification type="notification_info_tiny"]Every Tuesday evening when the women are meeting for Bible study, men are invited to meet at 6 p.m. at various local restaurants to enjoy a quick fellowship meal – a.k.a. Men's Wing Night. Each brother is responsible for their own check. See the bulletin for location information or contact the church.[/notification]
About the Author:
Kelly Minter is an author, speaker, songwriter, and singer. She is passionate about women discovering Jesus Christ through the pages of Scripture. So whether it's through a song, study, or spoken word, Kelly's desire is to authentically express Christ to the women of this generation. In a culture where so many are hurting and broken, she loves to share the healing and strength of Christ through the Bible's truth. Kelly writes extensively and speaks and leads worship at women's conferences, retreats, and events.