Welcome Visitors
We're happy you are considering a visit to our New Smyrna Beach church.
Upcoming Events
Visitors
While You Are Here
Most of us have been visitors at one time or another, so we can relate to what you might be feeling and the questions you might have. On this page we've tried to answer some of your questions even before you arrive. It is our hope that after your first visit (and every visit), you will feel truly blessed to have been in the house of the Lord.
F.A.Q.
Frequently Asked Questions
Where is Beachside Baptist Church?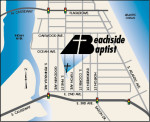 We are beachside in New Smyrna Beach, Florida at 629 S. Pine Street, New Smyrna Beach, FL 32169. That means we are on the east side of the Intracoastal waterway (over the bridge). We are fairly easy to get to. See our Google location map on our contact page. Once you arrive, please note that visitor parking is designated by guest parking signs close to the church building.
Where Do I Go Once I Get There?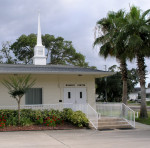 Depending upon what service you are attending, our signage will help guide you where to go. Sunday services are held in the Worship Center. The nursery and bathrooms are down a short hallway, marked with a sign on the west wall of our building. To locate a Sunday school group appropriate for your age, ask a Greeter, or stop in the Fellowship Hall.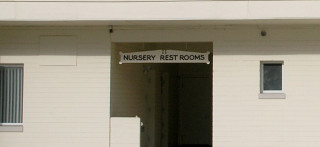 We'll be happy to introduce you to a class. Our Fellowship Hall is a great place to grab a cup of coffee (sometimes a donut or other snack), meet a few members and possibly join other visitors. It is also where Wednesday evening prayer and Bible study is held.
What Are The Services Like?
We are a smaller congregation, yet growing because of the love we have for one another and our community. The Lord is working in our presence!  The sermon comes from God through His word within the Bible and songs are sang from a hymnal. Some may consider our services a little "old-fashioned," yet many of our visitors and new members are comforted by a traditional service. Sure, we have fun. We're not boring! We laugh, we clap, we rejoice. We invite visitors of all ages to join in.
What Can I Expect From the Members?
We want your visit at Beachside Baptist Church to be a relaxing and enjoyable experience. Our congregation is very loving and friendly, so don't be surprised when you are approached by our members to visit before or after the service. We'd love to get to know you better.
We will not make you stand up and announce yourself. We will not invade your private life (home visit, phone call or E-mail) without an invitation or your permission. We do ask that you fill out a visitor card. These are located in the pew back, or a tear off portion of the bulletin. If you'd rather provide this information later, a return mailer can be provided with the gift bag given to first-time visitors.
Small Groups & Sunday School
Sundays @ 9:30am
Groups of all ages gather to discuss various Bible topics and lessons. Children have their own classes loaded with fun & learning.
Women's Bible Study
Held for 7-8 weeks twice per year
Our Women's Ministry schedules a Bible Study two times per year. These are a great way to learn more about the Bible and make friends.
Prayer & Bible Study
Wednesdays @ 6:30pm
Join us as we gather to lift others up in prayer and to study God's word.
Men's Ministry Breakfast
First Saturdays
Our Men's Ministry meets the first Saturday of each month for breakfast, devotion and fellowship. No cooking necessary!
First Wednesday Meals
First Wednesday of every month
Have a delicious meal and great fellowship on the first Wednesday of every month. This is a great time to get to know our members better.
Seniors' Ministry
Fellowship Meals & Outreach
On the last Thursday of each month Seniors meet for lunch, fellowship & a featured speaker. We also minister to shut-ins & meal delivery.